Lingerie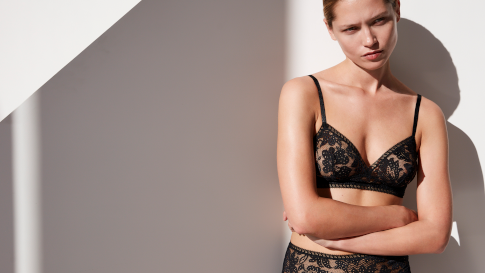 Cashmeres
At home, outdoors, when travelling, or out for the evening, cashmere can be worn anywhere, any time. Voluptuous, comfortable and chic, it can be used throughout your wardrobe, worn alone or with other quality fabrics. Cosy up in cashmere.
When it comes to women's lingerie, ERES offers you the impossible: a glam, personal and complete look, that will combine perfectly with all your styles. Like a delicate and subtle bridge between the visible and the invisible, the public and the private. From tulle to cotton, lace bodysuits to nightgowns, to nighties, thongs, cheeky panties or pajamas, our lingerie and loungewear collections combine the latest trends with a certain timeless elegance. Our simple, understated shapes play with soft, transparent materials, made to be forgotten about while enhancing your figure, no matter your body type. Get rid of wires, play with straps and embrace stretch lace, perfecting your style, while letting your body breathe.
The triangle bra
An absolute must-have for your wardrobe - a real collector piece. With our brand's signature cut, the triangle bra is our flagship lingerie item. Endlessly adaptable, it delicately blends comfort and support.
When it comes to women's intimates, ERES is there for all those who are looking for the cutting edge in comfort, fashion and quality, both during the day and evening. From our accessories to our lace panties, thongs to bandeau bras, nighties, bodysuits and other triangle bralettes, ERES creates each new collection, designing with both the aesthetic and the way that it will simultaneously envelop you in support and softness. Only working with high quality materials, creating unique patterns and unprecedented colours, we always aim to offer women lingerie novelties, the likes of which can't be found nowhere else.