Swimwear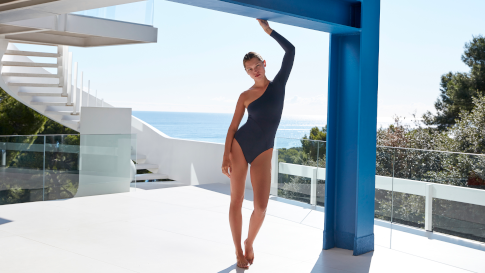 Les Essentiels
At ERES, certain styles are always a success. Season after season, in colours and prints, following your moods and desires, taking you from a pool in Corsica to a Mexican beach via a dance studio and drinks in a pavement café, certain cult swimwear items are simply essential. Inimitable, timeless and iconic, our Aquarelle, Show, Cassiopée and Asia models perfectly represent the values of the Eres brand: freedom of movement, support, sublime curves, and confident, unstoppable elegance. All summer long, discover our most iconic styles.
Almost-blacks
At ERES, black is much more than just a colour – it is several. Leaning towards plum, slate or navy, our almost-blacks are renewed with each collection to bring you deep and luminous shades to complement every complexion. That's black magic.
While tanning, swimming, strolling, napping or even going out. With the ERES luxury swimsuits and our beach selection, live every moment of your summer. Because you want to create a complete look, colours, materials and patterns escape from our luxury swimsuits to decorate your beach clothes and accessories. You put on any beach outfit, or look through the day and everything goes together perfectly according to the style and quality that you resemble. The beach is yours. Fashion and the latest trends are too.