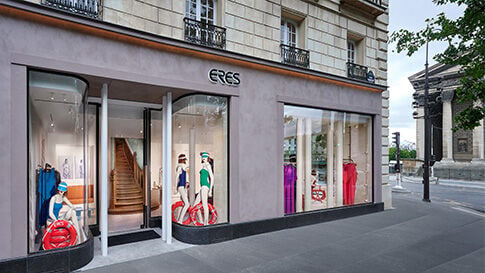 Maison ERES is pleased to present its historic boutique on Place de la Madeleine.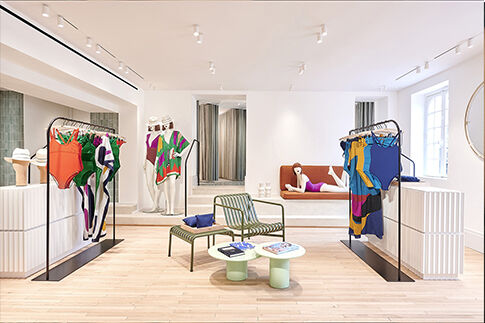 Wood, zellige, marble terrazzo, velvet
Noble materials used to create a brand new boutique concept that combines modernity and elegance.
The ERES collections are unveiled in this new showcase that honours the Maison's unique expertise.
Going back a few years
Originally, the shop belonged to the parents of Irène Leroux, creator of ERES. They sold sporting goods there. In 1968 the ERES story began.
The innovative idea was to offer women bathing suits all year round with the promise to offer unique pieces that would guarantee an assumed femininity and liberated bodies. For the first time, women are masters of their style and can fully appropriate their swimsuit.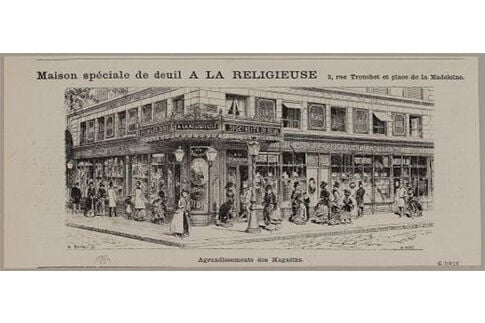 A fashion landmark
The boutique is quickly becoming a fashion landmark where women don't hesitate to queue for several hours in order to buy the ideal second skin swimsuit.
More than 50 years later, ERES is happy to welcome you once again in this shop full of symbolism and history.
Waves, movements and brillance
Inherent to the ERES universe, water, with its movements, waves and brilliance, has inspired this new space. The materials chosen are derived from it, such as zellige, which brings light and colour. It's like a journey in the Mediterranean, in the middle of warm and sunny colours. Velvet brings warmth, especially to the fitting rooms for unique comfort and intimacy.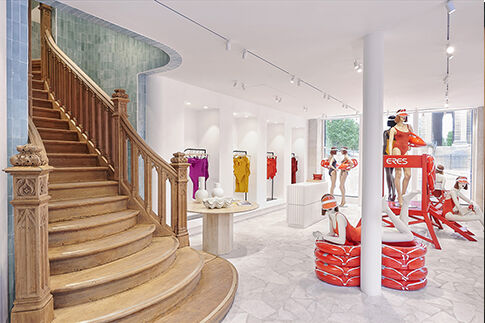 Graphic and pure lines
Wood is very present, a nod to the deck of a boat or the parquet floor of a dance hall. Another ERES signature is guilloché, whose graphic and pure lines are in harmony with the products. In order to best welcome the collections and give them good visibility, the porters have been reworked, directly inspired by the lines and curves of the ERES logo.
The majestic wooden staircase invites us to discover the first floor, and to project ourselves, thanks to its splendid parquet floor, on board a teak riva to continue the discovery in a refined, modern and warm space.
Creation at the heart of the House
At ERES, creation is at the heart of the House. Every element has been thought out to highlight our iconic products, always reinvented by Marie-Paule Minchelli, who handles the art of body and colour to perfection.
From the street, the colourful universe of ERES is already present. Colours are at the centre of the creation, they become real assets: ERES red is not just red but "Peps", blue is interpreted as "Dancefloor" and yellow is transformed into "Glitter", so many details that give ERES a solar energy.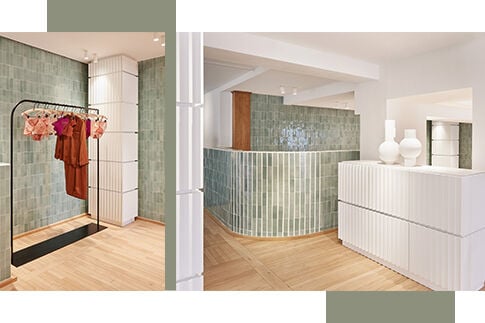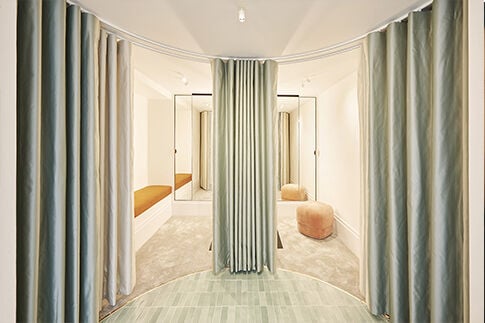 ERES identity
In adequacy with the products, this new case, reflecting the ERES identity, offers different colours and materials, with different volumes and textures, sometimes smooth, sometimes in relief ... All this with the aim of sublimating the collections and providing our customers with a unique experience.
ERES MADELEINE​
2, rue Tronchet​
75008 PARIS​